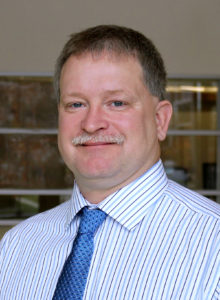 Bob Stovall
Merit Network: Vice President, Network Strategy & Architecture
Bob Stovall, Vice President of Network Strategy and Architecture, has an extensive background in networking and has served in several technical and managerial capacities since joining Merit in 1989. Prior to becoming vice president, Bob served as director, department manager, team leader, supervisor, engineer, and technician. He has lead Merit Operations, Engineering, the Network Operations Center, and IT departments. Bob and his team have engineering and operations responsibility for Merit's backbone network, member access circuits and IT services.
Providing technical and strategic leadership for nearly 30 years, Bob has lead or been involved with many high profile and critically important projects contributing to Merit's growth and service to its community. In the '90s, Bob was the technical leader for Merit's dial-in expansion to provide local access to every telephone exchange in Michigan. In 2003 he and his team provided engineering and operational direction and support to move Merit from a circuit leased infrastructure to an owned fiber optic infrastructure based on obtaining fiber IRU access and lighting over 600 miles of infrastructure by 2008.
In 2010, Merit was a recipient of two federal ARRA NTIA BTOP grants to build and light over 2400 miles of fiber optic infrastructure through Michigan and Wisconsin to expand Merit's capability to provide high capacity services into rural unserved and underserved communities. As of 2016, Merit's optical network is nearly 4000 miles and reaches into Illinois, Ohio, Minnesota, Wisconsin, and Canada.
Bob has represented and continues to provide outreach to both the local, national and international communities by giving presentations at Internet2, the North American Network Operations' Group (NANOG), Merit Joint Technical Staff (MJTS) meetings, as well as other network related venues. Bob is an executive team member of the Northern Tier Network Consortium (NTNC) and The Quilt's Facilities Futures Group. He also represents Merit at NANOG and EDUCAUSE.
In 2008, Bob testified at the U.S. Department of Education public hearings regarding matters related to research and education networking, specifically the Higher Education Act of 2008.
Bob holds a Bachelor of Business Administration degree from Cleary University and an Associate in Electronic Engineering Technology degree from Jackson Community College.
---
Events Featuring Bob Stovall